Aujourd'hui sur Twitter:
@_khany:
why is SSFIV AE not being released outside arcades :( Sad news
@Yoshi_OnoChin
I make someone less unhappy! Everything's going to be all right!
@Jason24cf:
I hope this story isn't true it's reported that SSFIV won't be DLC
@Yoshi_OnoChin
I'll try not to disappoint every time! Is it right?
;)
@xGlakex:
3DS is out now in Japan and SSFIV 3D! Can we have SSF4 AE for Console news now?
@Yoshi_OnoChin
Plz wait it after release 3DS in US/Euro !!
;D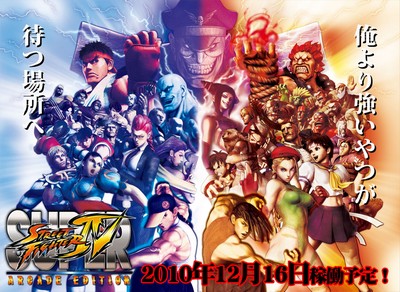 Bon, il ne faut pas être devin pour comprendre qu'éffectivement la mise à jour SSFAE console sera une nouvelle galette et non une DLC ?
Et elle serai dispo
après la sortie de SSF4 sur 3DS
sur les continents Americain et Européen.
Suffit de patienter !!!