Aujourd'hui sur Twitter:
@_khany:
why is SSFIV AE not being released outside arcades :( Sad news
@Yoshi_OnoChin
I make someone less unhappy! Everything's going to be all right!
@Jason24cf:
I hope this story isn't true it's reported that SSFIV won't be DLC
@Yoshi_OnoChin
I'll try not to disappoint every time! Is it right?
;)
@xGlakex:
3DS is out now in Japan and SSFIV 3D! Can we have SSF4 AE for Console news now?
@Yoshi_OnoChin
Plz wait it after release 3DS in US/Euro !!
;D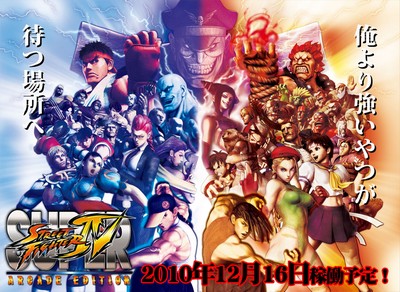 Bon, il ne faut pas être devin pour comprendre qu'éffectivement la mise à jour SSFAE console sera une nouvelle galette et non une DLC ?
Et elle serai dispo
après la sortie de SSF4 sur 3DS
sur les continents Americain et Européen.
Suffit de patienter !!!
Adress:
BEAT BY CONTEST LIVE STREAMING
Feat. Mago, Sakonoko, Tokido, Alioune, Ryan Hart, Kayane and more !
Start:
02/19/2010 - 10am(Fr)/9am(Uk)
Day 1:
Team 2vs2
Day 2:
Solo tournament.
Results in live on Versus fighting Tv twitter:
@vsfightingtv
Video:
VERSUS FIGHTING#1
Francais:
Bonjour à tous et bienvenue pour ce premier numero de
VERSUS FIGHTING TV
.
Au programme un reportage sur le tournoi
Bushido Impact International
qui a eu lieu à Paris en Decembre 2010.
Retrouvez les interview du meilleur joueur Européen et meilleur joueur Taiwnais de
Super Street Fighter IV
!
Restez Branché car c'est tout de suite !!
English:
Welcome to the first
VERSUS FIGHTNG TV
show.
We'll talk about the
Bushido Impact International
, the tournament held in Paris on December 2010 and watch the interviews of the best European and Best Tawainese
Super Street Fighter 4
players !
Stay front of your screen because this is right now !